Wall Panelling has made a comback
Interesting mouldings and decorative features are on trend and with room architecture you don't need as much "stuff" to make the room beautiful.
Here are some of our favourites.
Box Panelling
Simple and easy, adding strips of wood to existing walls by glue or nails and painting to match.
Applied Moulding
More formal and decorative in character, installation can be relatively easy to install to achieve the desired look. You can customise the size of the moulding and size of rectangle or square shape.
Vertical Panelling
The modern panelling which is seen a resurgence in recent years. You can customise the size of the plant and also readily purchase pre-fab boards to stick on wall.
Wainscoting
The term wainscoting refers to any type of wall treatment that runs the entire length of the wall.
So while some people think wainscoting only involves bead-board or v-groove, the "half way method" but this method can be used for any wall treatment.
When using frame and panels (or just frames on their own), there are many ways they can be applied to the walls:
1 Traditionally with framing on the lower half of the wall with a chair rail;
2 Framing above and below the chair rail;
3 Top and bottom framing with no chair rail; or
4 If you want to go all out you can double frame.
V-Groove
V-Groove panelling which falls under the vertical panelling family is a type of panelling where the edges of the boards have been shaved so that when it butts up to another board it forms a "V" shape in the groove. It's traditional with a twist and gives you more of a defined line than just butting two boards up against each other.
Three things to consider when choosing a bathtub
There is nothing more luxurious than soaking in a sophisticated and comfortable bath at the end of the day. But when you are designing or renovating your bathroom, the choice of baths available can be overwhelming.
Should you choose a freestanding bath or an inset bath? This will depend on your tastes and the amount of space in your bathroom. Here is 3 factors that you have to consider if you are thinking to change or add a bathtub to your bathroom.
Style:
Bathtubs have personalities. The amount of space that you have in your bathroom influence what style is right for you. In addition to space, the bath material will also be of influence, acrylic, concrete, copper or natural stone?
Freestanding Bathtubs: This is one of the most popular style of bathtub as it doesn't require connecting walls to be installed and can fit almost any space in the bathroom.
Regular or Clawfoot: This traditional style has existed since the early 1800s. Nowadays this style is changing to a modern look taking away the pegged claws on the base and replacing it with a more sleek, uniform look. Clawfoot tubs are usually rectangular in shape and require more space than the other alternatives.
Alcove: Those tubs are designed to maximised space are usually installed in a small bathrooms and are installed in a recess of three connecting walls with one finished side.
Drop in: They're fitted inside a framed enclosure that's usually tiled or with stone overlay finished to match bathroom design.
Japanese style or Soaking: They are usually either oval or circular in shape and generally taller than standard bathtubs. The purpose of these is to sit comfortably in place to allow yourself to soak.
Materials:
There are two key factors for choose the material of your bathtub the price and the comfort. Keep in mind that the most beautiful of material can be the most expensive and heaviest so you should do research on what your bathroom can handle before purchasing.
Fiberglass: This is the cheaper material is made of reinforced plastic. This material is quite durable however can be damaged from heavy impacts and is porous it means that it will absorb water regularly and is difficult to maintain
Porcelain: This material is made of stamped steel with a layer of porcelain enamel-a mixture of powdered glass and substrate heated into a durable coating. This material is quite delicate to heavy impacts however the porcelain is not porous and it will not warp or deteriorate over time.
Ceramic: Those tubs are formed by moulding numerous ceramic tiles together until it hardens the advantage of it is that the bathtubs can have different styles and sizes the drawback is that the ceramic can be difficult to maintain.
Stone Resin: This material is composed of crushed natural stone bonded together with adhesive which can give you the look and feel of natural stone without the weight and with a more affordable cost. The disadvantage of the resin stone is that there are limited styles on the market compared with the other materials.
Marble: This material is durable and retains the heat however as it is a natural tone it is is the most expensive material and is also heavy, adding more hassle to install.
Size:
The third consideration is the size, if you have space and your house can support a larger bathtub we will always recommend a larger tub. Keep in mind that a larger bathtub will also require a heftier water bill as it will require more water to fill compared to a smaller size.
Choosing your Windows Style
Your windows are the best way to bring the outdoors in and help you connect with your exterior. Choosing the right windows for your home is a complex and difficult process.
During this process you must consider design, style, material and glazing. Our tips are as follows:
Design- your architect will assist you with design:
Most of the time the window design will be influenced by room layout and the shape of the house itself. However, the shape and type of the windows should also be taken into consideration when deciding on the exterior and interior finishes. The windows design will depend on your house style if it is traditional or contemporary.
Open-out Casements: There is a big range of different designs for the open-out casements, in this style the costs tend to be lower because they are made in modular, standard sizes.
Tilt and Turn: This windows style open inwards and are one of the the most common options for a modern designs. Great for small rooms where the space is a priority. This contemporary style can be more expensive because they are typically made by order.
Fixed: This style will not help for the ventilation of the house, however will increase the natural light throughout your home. The fixed windows are designed to suit your space and can provide lovely light into your home as well as a beautiful outlook, overlooking garden spaces or key outdoor areas.
Skylights: The biggest benefit of this style is that can bring natural light to your house and can be installed where conventional windows can not. Velux also make a range of openable sky-lights which are stylish and functional.
Materials:
Timber Windows: Timber windows are more used in traditional houses, this material can be softwood of hardwood. The first one is cheaper than the hardwood but requires repainting every few years. Hardwood has tighter grain than softwood, making them more stable and durable.
Composite Windows: If you can't decide between the all different materials there is an option that is the mix of different framing materials inside and out and is called composite windows. Usually consist of timber windows with a weather-proof capping, such as aluminium strips or plastic. It is complimentary to modern design but an expensive material.
Steel/Fibreglass/Alloy Windows: Are popular in contemporary homes, with this material can be produced finer frames easy to maintain On the other hand this material can be expensive and is not thermally efficient as wood.
Glazing:
Low E: Low E means low-emissivity is a kind of glazing specially design to contain the heat in the house and prevent it to escape, this glazing can reduce the heat loss by at least as four or five times compared with single glazing.
Double or Triple glazing: The choice is yours. This glazing is becoming in one of the best solutions for window suppliers. Double or triple glazing has a layer of insulating air, or other gas, between panes that acts in a similar way to a fibreglass batt in a wall. It reduces heat loss from windows and increases comfort and warmth. Also great for noise isolation.
Choosing a Front Door
More than being a functional item, your front door is a huge part of your home's first impression, contributing to the style of your exterior and front garden and making a statement about the kind of an interior is beyond it. External doors differ greatly from interior doors and need to be given a lot of thought.
What are the most common styles of front doors?
When choosing a style there is alway a lot of options but the most popular are:
Single doors: Self explanatory really, one end of the door is installed on the hinges, whereas the other end swings into or from the space
Single doors with glazing side or top panels: These doors are installed same as a single door and are popular in heritage homes with lead-light panels within the door on in the frame.
Double doors/French doors: These doors are held on the hinges on each side of the opening, and they swing to out and meet in the centre, always classic.
Pivoting wide doors: A pivot door turns on 2 metal rotations on the top and bottom of the door and can open in and out.
What are the best materials for front doors?
Since functionality is its primary (and most important) purpose they must be strong, sturdy and solid and the best way to narrow down front door choices is to look in terms of material.
Steel: Steel doors are perfect for modern buildings and an impenetrable aesthetic. Although one of the most expensive options ensure these are powder-coated to prevent corrosion.
Fibreglass: These doors are tough and maintenance-free, and are a smart choice for harsh or humid climates. Keep in mind that fibreglass front doors may cost a bit more than timber but the long-term energy savings can help offset the difference
Timber: A wooden front door offers fantastic security, versatility and sophistication. Wood is sensitive to moisture, and wetness in the wood can cause the door to warp, crack and change shape. Sun is also an important factor in the life of your wood door.
Installing a front door
If you have even a modicum of DIY experience or skill, you might like to try installing a front door yourself or ask us for help. Installation steps are as follows:
Measure your old door: You must be accurate, take some different measurements such as that of your existing door, your frame, jambs and your sill.
Remove your old door
Fit your new frame: Your frame should fit into the opening exactly, you just need to have space for a sealant
Fit your Door: You must check that you are hanging your door level, with enough space to open fully and that your sill is in the right place. It shouldn't require any effort in terms of opening and closing.
Insulate and install the trim: After have everything in place you can finalise the installation by adding all of your trim to hide the fixtures.
What about the security?
Once you have everything in place, you will definitely want to consider locks, as well as 5-pin cylinders, mortice locks and multi-point locking systems. Anything other than these options will be viewed as a weak security system, you can ask your door supplier for advice.
Kitchen Lighting
The kitchen is the heart and soul of the home. When this multi-functional, highly visible space needs a renovation, the lighting scheme plan will be vital to the overall finish of the space.
Visual Interest
Add impact and visual interest with downlights or pendants. Use light only where is required. Adding a row of pendants to your kitchen island will help you to divide the different areas between the dining and kitchen areas
Consider natural light
The orientation of your kitchen and the amount of natural light that it receives will have an impact on your lighting scheme. The ideal aspect tends to be north or north east, if the kitchen faces the wrong way it can be dark and you'll need to have lights on more often.
Include more than one light
Including different layers of lighting. Using different lighting sources will give you a more 'three-dimensional' feel and will help with creating the mood you want. Each source should be controlled individually.
Be Mindful of Colour
Think about the colour of the kitchen. As white reflects light, if you have a lot of white in your kitchen you may be able to lower the wattage of bulbs. But those with darker kitchen lighting may need more wattage.
Choose the right light temperature
Go for warm lights. While you may want your LEDs to give off cool white light above worktops, warm white is much more relaxing for dining or living areas.
Control the space
If your kitchen is small, you can increase the sense of space by using directional spotlights highlighting your cupboards and walls.
Lime Washing
Nowadays lime washing floors it seen as a stylish and highly appealing option for an understated palette.
Lime washing, or white washing is a technique that has been used for years, initially to protect wood and more recently to make wood look weathered and bleached. Is a simple, easy and effective way, to give your floorboards a makeover.
So, how does lime washing actually work?
Lime washing was initially created as a combination of calcium hydroxide and chalk however these days a diluted paint paint solution is applied. This technique is perfect when a lime wash is applied to solid wood flooring it creates an open textured look to the grain and brightens the wood dramatically.
Lime washing your floor on a DIY basis
Recommended for existing wood floors.
This process can be completed in 5 steps:
Sand the floor until it is free of all old varnish

Remove all traces of sanding dust and go over the floor with a slightly damp mop before letting it dry thoroughly.

Prepare the mixture, the easiest way is to use paint thinner to thin down an oil-based white paint until it is almost translucent.

Apply it to the floor using a roller in small quantities, leaving it to dry for about 15 minutes before buffing away any excess with clean cotton cloths.

When you've achieve the level of lime washing you're happy with- usually 3-4 coats is required, you will need to let the floor dry for at least 24 hours and then finish off the floor with a polyurethane varnish.
The pros of choosing lime wash
This option can actually be a reasonably effective way of concealing the dirt and grime on your flooring. White always looks clean and fresh. The pros? Timing as 3-4 coats need to be applied the process can be lengthy but worth it!
Shower Heads
Are you considering a bathroom update? There are many things to consider such as tiles, colours, vanity, mirrors, lighting, layout, functionality, the list goes on and we understand this can be overwhelming. In all these decisions we recommend you take time to consider your shower head.
Showering should be an uplifting start to the day or a relaxing experience at the end of the day. Sadly, even the best showers don't always give you the drenching of your dreams. The best shower head isn't always the one that looks the most beautiful but rather the one that gives you the most refreshing and rejuvenating showering experience. The good news is that you don't always need to replace the whole shower; you can often revitalise it by switching its head.
How to choose the ideal shower head
What types of shower head are there?
There are two basic types of shower heads fixed and handheld. Fixed shower means that this heads are attached permanently to the wall or ceiling and the second type the handheld head which are more common nowadays and many of our clients choose both options.
What are the most important factors in a shower head?
There is two factors that you must consider, those are coverage and pressure.
Coverage is how much area the shower head covers with its spray and pressure how strong the flow feels on your skin.
Most of the time the more you increase one of these factors the more you decrease the other that is why is important that you have an idea of which one you prefer and what is the perfect balance.
What are the heads made of?
There are some shower heads that are made of plastic, we don't recommend this option as plastic cracks, leaks and has even been shown to collect more bacteria inside of the shower head. The best options are Stainless Steel, Brass or Porcelain, all durable and rust proof.
What other features should I look out for?
In addition to the basics, modern shower heads may offer extra features like a built-in Bluetooth speaker or LED lighting. However these aren't always practical for a handheld shower, though, and they are no substitute for an effective spray pattern.
Some luxury features are worth the extra dollars, a fancy finish can be worth paying for if you're trying to keep your bathroom looking sleek, whilst anything that helps you keep your shower head clean and free of limescale is also a good idea.
Check out Reece as they have a comprehensive range to suit all budgets.
https://www.reece.com.au/search/showers-c458/shower-heads-outlets-c2520/shower-heads-c664 or
ABII Interiors for some stylish finishes https://www.abiinteriors.com.au/product-category/tapware/shower_heads/
Kitchen benchtop materials
Kitchens are not only the room of the house where meals are made, but also where much of the action happens - from household admin to homework and family meals, these are the reasons to make sure that the kitchen materials are both practical and attractive.
One of the most important decisions that you will have to make in a kitchen renovation project is the type of benchtop you will use. Durability is a big factor in this surface that is why you should choose your material wisely.
To find the perfect benchtop material we will give you this advice to assist with your decision.
Natural Stone benchtops
Marble is attractive with passionate cooks as it is the perfect surface for baking. Marble is also a luxurious material, as a natural stone no two slabs are alike. However, spices, curry sauce, coffee, beetroot and red wine will all leave marks and stain your natural surface, so you need to think wisely about your kitchen habits and weigh up how important the look and cost is in relation to how much use your kitchen gets.
Another option to natural stone is granite benchtops, these are more stain- and scratch-resistant, and they come in a wide, selection of colours however you'll need to pay for this choice.
Always ensure your builder or stonemason seal your stone bench-tops following installation, this will help protect the surface from stains. Leading suppliers of natural stone in Melbourne are Signorino and CDK Stone.
Timber benchtops
Timber adds warmth to kitchens and is a lovely natural material that never dates. The extensive variety of available species means that you can play with the tones of the yellowish colours of ash to the darkest tones of walnut. The con of this material is the level of care and maintenance it requires is probably just too much for some people. Water can be a threat if you are not careful.
Engineered stone benchtops
This is one if the leading materials in kitchen renovation projects and certainly a favourite of our clients. The durability factor plays a key part in choosing engineered stone. It also is very easy to clean and comes in a wide range of colours, from bright whites to dark greys. Check out the leaders in this field, Caesarstone, Silestone, Essa-Stone, Quantum Quartz.
Laminate benchtops
Laminate is always a safe option when you have a tight budget. Laminate benchtops are cost-effective with countless colours and finishes to choose. Laminate is resistant to staining and easy to clean, it is also easy to install. Laminate is also a great long term option, if you choose wisely it will still look great in a decade. The drawbacks with laminate is that it can burn and blister, there are visible joins and it is prone to swelling and scratching. Leading laminate suppliers are Laminex, Lamicolor Duropal and Polytec.
Sintered Porcelain Slabs
This product is relatively new in the market with brands such as Neolith and Dekton. These are scratch, stain and scorch resistant surfaces and are relatively low maintenance. The material is manufactured in large slab sizes which can be cut to fit into any kitchen. This material can also be applied as cladding and cupboards due to its thin manufacturing ability. This surface appeals is a favourite with designers and architects.
• Dekton currently has 52 different finish options.
• Neolith currently has 30 different finish options
Polished concrete benchtops
This material can give you an urban and modern look in your kitchen. this style of benchtop are precast elsewhere by hand to your specification which make them an expensive option however, because of this you get a lot more choice with your colour and edge design. If you re thinking in use this bench you may require additional sub-floor structural work to support.
Five Best Materials For Kitchen Cabinets
Thinking in a kitchen upgrade? Cabinetry can transform the space. And there are heaps of options to meet your needs.
The cabinetry material can have a massive impact in the appearance of your new kitchen but also on your budget. You'll find variety across the board—including laminate, black marine plywood, pre-finished veneers, solid timber, vinyl wrap, two pack and cupboards constructed using eco-friendly materials.
To figure out what suits your kitchen best, let us offer some information to think about.
Laminate:
Is made of three resin-saturated layers: a base layer of paper, a printed and coloured layer (which may look like wood), and a protective transparent layer. Heat and pressure fuse a laminate to a substrate.
This material provide a resistant surface and also a vast colour range that can pair with nearly any decorating style. It is a cost effective option for a kitchen renovation project.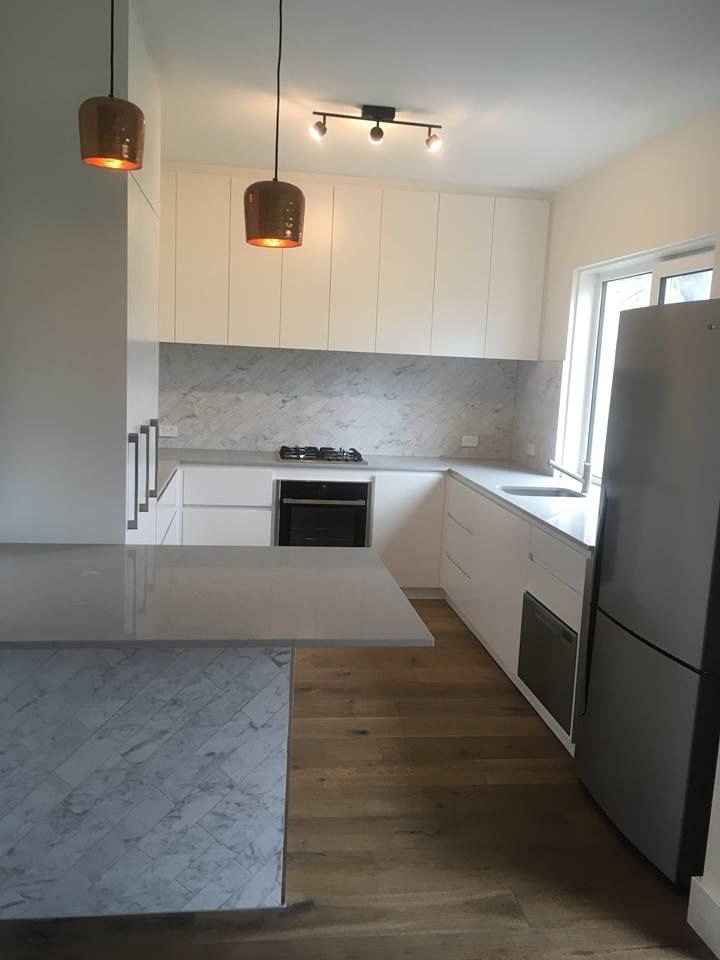 Black marine plywood
Plywood suits inner-city chic, industrial or ultra-modern kitchen designs.
This material is a sheet material manufactured from thin layers or "plies" of wood veneer that are glued together with adjacent layers.
The plywood is flexible, durable and strong making it a favourable option for your cabinetry and is still generally more affordable than solid wood.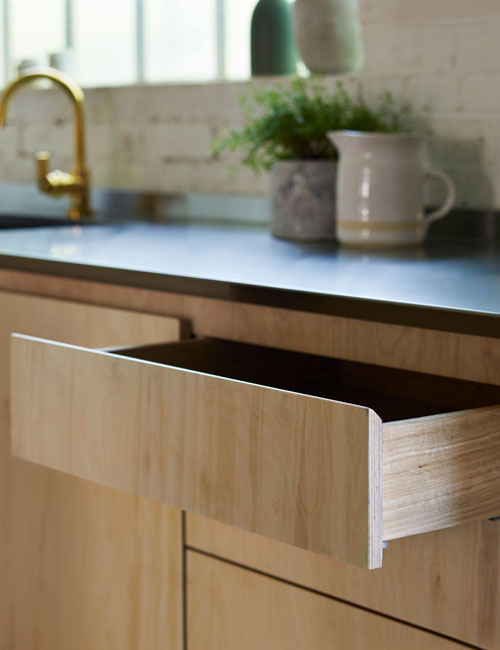 Pre-finished veneers
This is one of the most popular interior materials. Wood veneer is a very thin slice of wood which is obtained from a tree log. Timber veneer can be more easily shaped than solid timber, and is available in a variety of species and used to improve the aesthetics of the kitchen cabinets. This product is less expensive than solid timber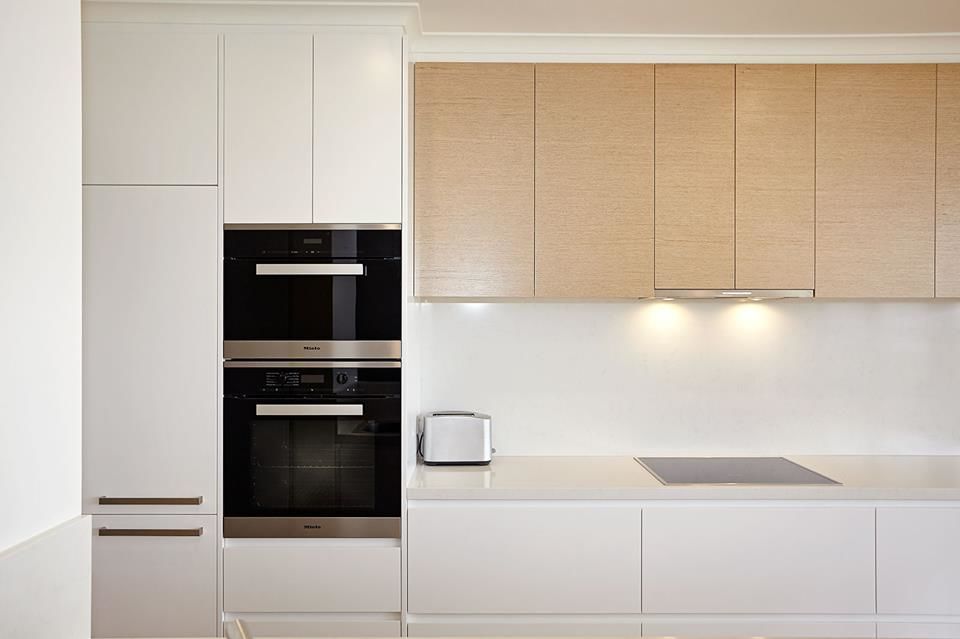 Solid timber
Wood cabinets are a classic feature making them a popular choice for homeowners. There are a range of wood cabinets in colour and style depending on the material the options include oak, maple, hickory, cherry, birch, ash, and pine.
However before you choose wood as your main material for the cabinetry know that they can warp easily as the moisture content changes.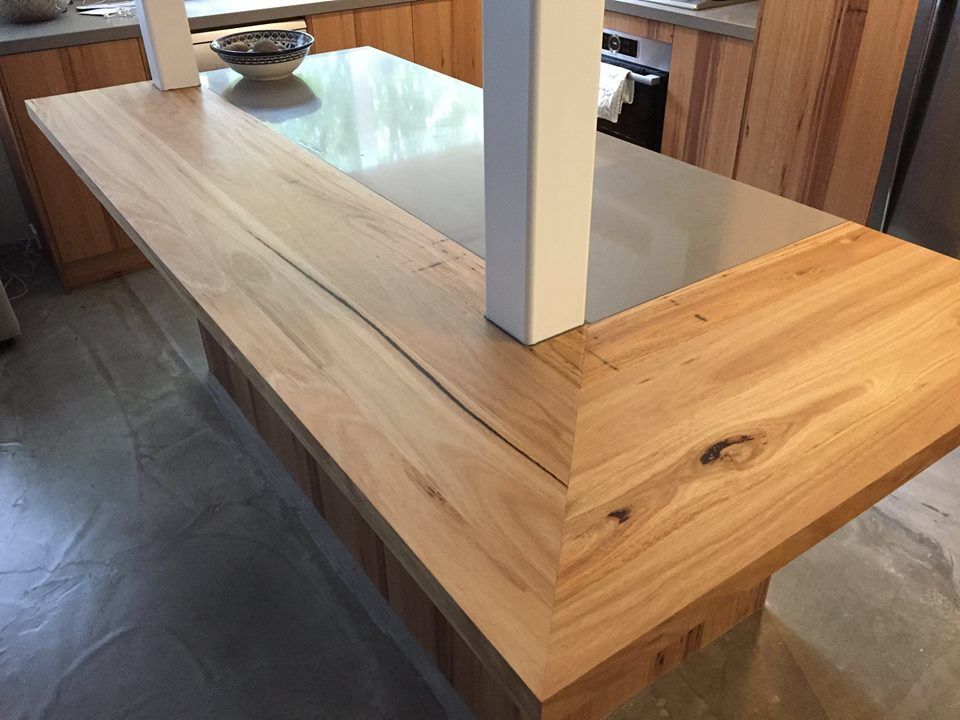 Vinyl Wrap
This is one of the most versatile materials for kitchen cabinetry. The Vinyl Wrap doors are made up of an MDF panel that has been cut and covered with a vinyl form that is pressed to the door using heat and vacuum. It can be designed in a number of profiles, from simple flat doors through to doors with delicate finished. It comes in a wide range of colours making this material suitable to any style kitchen.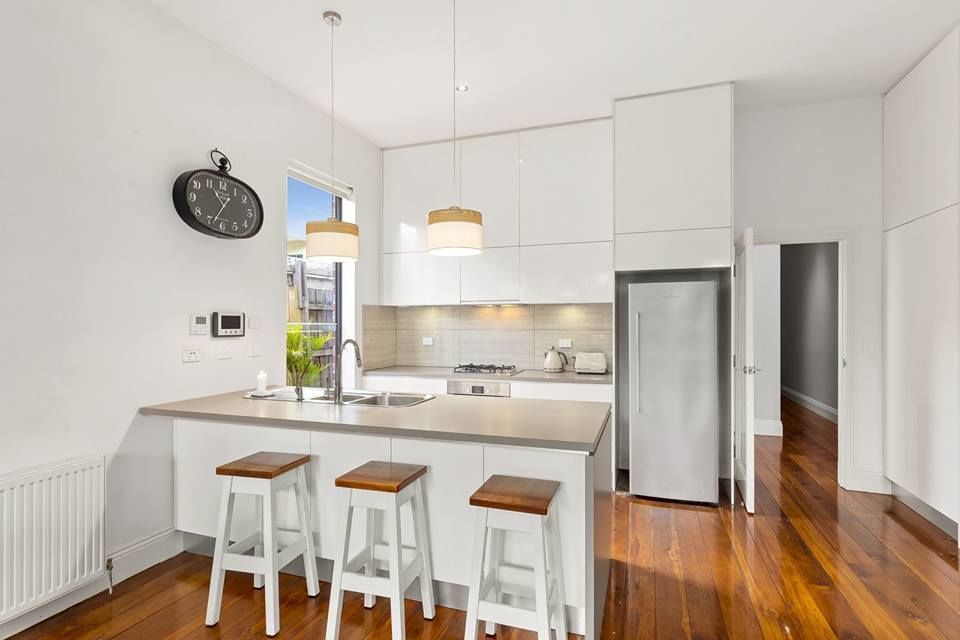 Two pack, Two Pac, Two Pak, 2pac
Is a painting mixture solution incorporating a tin of paint and a tin of hardener to form a two-part solution. Two pack cabinetry means that the faces and edges of the kitchen doors, drawer fronts and panels are painted with this very hard two-pack paint.
This material definitely lasts longer, it's also very flexible in uses. The most value valuable aspect of using Two pack is that you're able to do an exact colour match with your walls in the home, it also comes in a range of finishes, Satin, Matt or Gloss. Its a luxurious option this will stand the test of time and this is our preferred option for kitchen cabinets.
Another Elwood Trade Services Bathroom featured as Inspiration
This bathroom celebrates the elegance of a clean design with a neutral colour palette and rose gold accents delivering a timeless and versatile look. Call us today to discuss your bathroom project
Bathroom Renovation Inspiration with Elwood Trade Services
Our latest bathroom was featured in the REECE Blog, good tips and tricks. Read it here....
The Modern Splashback
By Deb Cadzow Elwood Trade Services
The modern splashback has come a long way in recent years. Gone are the days of a row of tiles protecting the paint, today the splashback is a statement piece in the modern kitchen. You can still opt for traditional tiles, glass, stainless steel, stone or pressed metal which are all making an impact in a beautiful way.
Tiled
A Tiled splashback can still make a big impact especially in statement colours and bold patterns.
One of the most versatile types of wall tile is a ceramic tile. Ceramic tiles are durable and resistance to moisture, making them a great splashback material. Ceramic tiles are also durable, you can use an all purpose cleaner and give them a good scrubbing.
While picking out a beautifully printed tile, you will be wiping these every day so be aware that stains to the grout will happen. Speak with your kitchen designer or building company and ask their recommendation when it comes to grout solutions that will keep your design looking fresh.
Glass
Glass remains a popular splashback choice, you may want to consider a printed glass panel. Glass is ideal as it is fully customisable, neutral colours always work and we are seeing more black in our kitchen designs. If you are considering a big statement with your splashback it is incredibly important that all other elements in the kitchen will work in perfect harmony. This design element can be risky so seek some advice from your designer to ensure the balance is perfect.
Mirror
Those with small kitchens, this is the perfect option. Mirrored splashbacks compliment most kitchen styles, they enhance the space and refect light. The mirror is versatile and beauitful with a variety of tints to suit all tastes.
Pressed Metal
One of my favourites. The rise of the modern industrial kitchen has seen tin and metal splashbacks truly take off. Modern style kitchens benefit from repetative patterns. If you want a real "wow" factor take the pressed metal splashback to the ceiling. Metal splashbacks are low maintenance and practical. Once these are powdercoated, the panels are easy to clean and the powdercoating protects the metal from absorbtion.
Marble and Stone
Especially beautiful are intricate mosaic tiles in marble we are are seeing a lot of, these work so well in a herringbone pattern. Stone splashbacks also set a style that cannot be beaten. Stone is prone to chipping and staining, so a low maintenance option this is not. Caesarstone is a great alternative as it is resistent to scratches and chips and available in a large variety of colours and shades, well worth a look if you like the look of stone without the upkeep.
See Through
The window that is perfectly positioned has made a comeback and this option can be breathtaking. Nothing more to say.
Create an amazing bathroom on a budget
By Deb Cadzow Elwood Trade Services
Firstly, you can design a luxurious bathroom on a budget, it will just take some planning and research. Know what you want and map out the bathroom so you know the design before meeting with the builder. Know your budget and discuss ways of reducing costs in the initial onsite meeting stage with the builder. A reputable builder will always provide effective ways of achieving your desired finish to suit your budget. Decide what your bathroom needs to fulfill, your lifestyle and functions you want from your bathroom, create a mood board with decor, colour schemes and designs that appeal.

Secondly, find a suitable designer and builder, discuss your budget and requirements, always be open with your budget as this will enable your builder to communicate as to what can and cannot be done. An average bathroom will cost approximately $23,000 depending on your fixtures and fittings. There are ways to reduce these costs, contact us to discuss your requirements 9531 7001.

Once you have a budget and chosen your builder have a designer do a render or 3D sketch of the new design. This will help your builder and bring your vision to life.

Ensure you have the contact persons details who will be managing your site as questions will arise during the building process and communication with your onsite contact will be vital.

Go shopping! Source your products, fixtures and fittings. A little bit of savvy shopping could save you thousands. Ensure that all of your fixtures and fittings are onsite in the first week of your renovation, this will avoid any delays and extra costs.
Mistakes to avoid when designing your bathroom
By Deb Cadzow Elwood Trade Services
1. Purchase the best quality tapware, fixtures and fittings you can afford. Good quality tapware, baths, toilets and vanities will stand the test of time and save you spending money to replace these in the future.
2. Your bathroom is an extension of the living space, it needs to be functional, inspirational, a space to relax and escape. It should be designed to encourage people to spend time in it. Ensure the bathroom you create has lots of natural light and privacy.
3. Try to integrate the exhaust fan into the ceiling rather than have a surface mounted fan if possible.
4. Don't overlook good heating and ventiliation in your bathroom. Openable windows if possible, and underfloor heating if you can afford.
A brand new kitchen, things to consider
By Deb Cadzow Elwood Trade Services
Some of the kitchen trends at the moment include sleek surfaces such as granite and marble benchtops, and modern, clean lines for cabinetry and panelling. Large islands or breakfast bars/benches for extra working and storage space are also common, usually these are accompanied by seating for additonal dining space.
Bold colours and unique, quirky designs are coming through more regularly and we see our clients breaking the mould of a typical Melbourne kitchen design.
How long does the process of installing a kitchen take?
Once all the hard work of design is done, then the building works can commence. We usually inform our clients that this could take anywhere between 4-6 weeks. This timeframe should cover all of the individual trades including our builder, our plumber, electrician, joiner and cabinetry installers and tiler.
What is the most popular kitchen layout?
The most common layouts I have seen recently come down to three major designs. The U shape, the L shape and the gallery corridor-style layout. The U Shape is generally most common as it provides the most amount of benchtop space and storage space. The layout is generally accompanied by an island bench in the center of the kitchen. The L Shape is also quite common and this is formed in an "L" configuration with one side longer than the other side. The gallery style kitchen typically has a sink, benchtop and cabinetry on one side and appliances and additional cabinetry on the other side of the kitchen.
Can I make a cheaper benchtop look expensive?
Yes. When choosing benchtops there are thousands of options from laminate, to wood to stone. Ask our joiner at Elwood Trade Services for options to suit your budget.
What are the key considerations when installing a new kitchen?
Draw up a plan. Storage space is key. Ensure cooktops and powerpoints are away from the water source. Make sure you map out powerpoints and how many you require. Maximise benchtop space by positioning cooktops, sinks and appliances in appropriate positions. To understand the costs involved contact us on 9531 7001 and we will arrange an onsite visit with our Builder to discuss your kitchen requirements. A reasonable budget can range anywhere between $17,000 and $50,000.